Red Deer, Alberta
St. Joseph's High School is the newest Catholic High School in Red Deer. The site is suited to serve two additional schools in the near future. As a team we set the core values for the project which had to be achieved. These values included supporting our partner's education model and to deliver a project in which not only the building itself, but the delivery process, was inspiring, operational, and sustainable. This project achieved LEED Silver.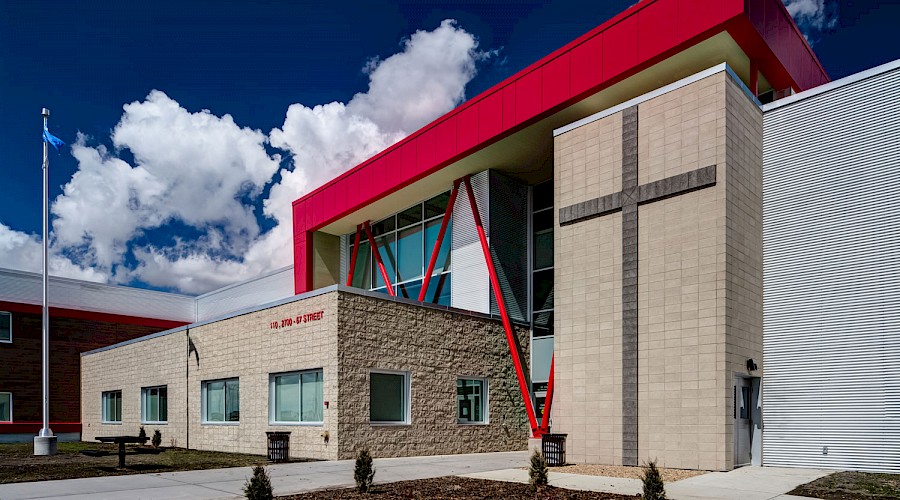 This project faced the challenge of constructing a structure from the ground up, to support a capacity of 1,200 students, while working with a budget for 900 students. We also strived to maintain the values and goals of all partners involved. Through collaboration as a team, we utilised the strengths of individual partners to hone design. By using real time budget feedback the team was fully informed on the cost of elements and implications of design. We then used our value matrix to ensure that the values (to be inspirational, operational, and sustainable) were the governing factor on the project direction. The use of Building Information Modeling (BIM) allowed designing in 3D that generated one federated model, that contained all architectural, structural, mechanical and electrical scopes. Clash detections were performed on a regular basis between the different scopes and coordinates were regularly extracted out of the model and sent to site for an accurate construction process. With constant updates of installs on site to the model, this ensured the quality, budget and schedule are all on the right course.
Using the Integrated Project Delivery (IPD) model allowed us to meet the client's values and budget constraints while providing a high cost certainty. We also managed to overcome the increased costs resulting from the financial challenges while providing additional allowance for design enhancements which typically would not be achievable on the allowable funding.
The construction of this project was completed 4 months ahead of schedule and $4,000,000 under budget in 2017.